News Corp. is:
Rupert Murdoch
"News Corporation (NASDAQ: NWS, NWSA; ASX: NWS, NWSLV) had total assets as of December 31, 2008 of approximately US$50 billion and total annual revenues of approximately US$33 billion. News Corporation is a diversified global media company with operations in eight industry segments: filmed entertainment; television; cable network programming; direct broadcast satellite television; magazines and inserts; newspapers and information services; book publishing; and other. The activities of News Corporation are conducted principally in the United States, Continental Europe, the United Kingdom, Australia, Asia and Latin America."
FOX Broadcasting Company
FOX Sports Australia
FOX Television Stations
FOXTEL
MyNetworkTV
STAR

BSkyB
Sky Italia
Magazines
Big League
Inside Out
donna hay
ALPHA
News America Marketing
Smart Source
The Weekly Standard
HarperCollins Publishers
Australia
Canada
Children's Books
United States
United Kingdom
Zondervan
AmericanIdol.com
AskMen
Broadsystem
careerone.com.au
CARSguide.com.au
Fox.com
Fox Interactive Media
FoxSports.com
FoxSports.com.au
hulu.com
IGN Entertainment
kSolo



Milkround
MySpace
National Rugby League
NDS
News.com.au
News Digital Media
News Outdoor
Rotten Tomatoes
Scout
Spring Widgets
truelocal.com.au
WhatIfSports
20th Century Fox
20th Century Fox Espanol
20th Century Fox Home Entertainment
20th Century Fox International
20th Century Fox Television
Fox Searchlight Pictures
Fox Studios Australia
Fox Studios LA
Fox Television Studios
Blue Sky Studios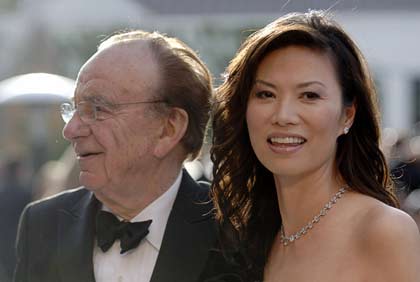 Rupert Murdoch and his wife.
Rupert Murdoch has learned how to play the game and win. Congratulations Rupert. The rest of us only have one thing to say, "We have done so much with so little for so long that we're now qualified to do everything with nothing." Can you throw us a bone of how to do it too?